Easy Garden Irrigation Made Simple
We are all being asked to be more aware of our water usage and make every effort to save water in the hot weather. In my last blog I discussed ways how to reduce the amount of water we use around the garden, but how do we use the Skyline products?
PLANT!T Water timer
The PLANT!T  water timer can connect to the mains water tap or a water butt. It has a working pressure of 1-150 PSI. Simply set the frequency and duration of watering times by turning the dials, attach to your tap, and connecting the irrigation lines from a 13mm outlet.
It is battery-powered (2 x alkaline 1.5V AAA) making it versatile enough to be placed anywhere in the garden and is weather resistant, with an auto shut-off safety valve for when the battery runs low.
A simple and effective irrigation control device.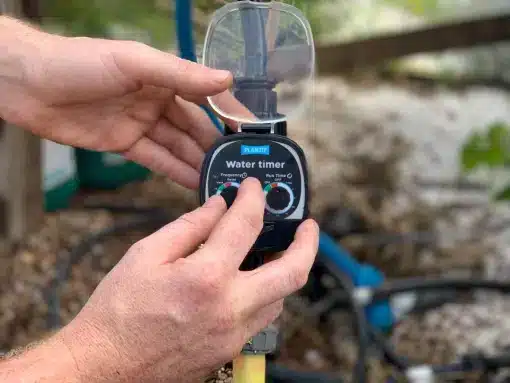 Irrigatia
The Irrigatia control system is a solar-powered unit that can be placed anywhere in the garden to work. It needs to be connected above a water barrel and is a simple but effective system. It will water every 3 hours and the duration will depend on how sunny the conditions are. On average, a 200L water butt will last up to 3 weeks which is an incredible amount of water saved compared to using a typical garden hose, which will use around 15L per minute!
There are two types of units available. The Solar Automatic Watering System – Irrigatia SOL C12 and the Automatic Watering System Greenhouse Kit Irrigatia SOL-C24. Both are supplied with 15m of the tube, 12 drippers and stakes. The tank cannot be more than 20m away from the control units and drippers cannot extend further than 60m or 5m high.
The C12 can water 12 x 20L pots or 5 hanging baskets. You can also attach a seep hose but not a microporous hose. The C24 can water a minimum of 12 x 20L pots but is capable of extending to 24 drippers with the extension kit (available), or up to 10 hanging baskets. Both the Seep hose and microporous hose can connect to this unit.
Here's a helpful video from Irrigatia to show you how easy it is to set up!