Self-Watering Indoor Plant Pots
Experience the Joy of Effortless Gardening with Intelligent Irrigation
Welcome to your urban retreat! Skyline Grower's self-watering indoor plant pots are a lot more than just containers for your plants; they are innovative solutions tailored to meet your unique needs. These lightweight planters offer a touch of nature that blends effortlessly into your modern decor. They are designed to eliminate the common challenges of indoor gardening, such as overwatering and battling for space. With Skyline Grower, you can bask in the serenity of nature within your own home, free from the usual concerns and hassles that come with tending to indoor plants. Experience tranquility effortlessly.
Grow Plants Indoors with Confidence and Transform Your Indoor Living Space into Lush Greenery with Our Self-Watering Plant Pots
Fast Delivery
99% Of Our Products Sold In stock
Reliable and Durable
Consistent, trustworthy performance.
Help & Advice
From Finding The Right Solution To Installation
How Do Self-Watering Planters Work?
Our Self-watering indoor plant pots use a unique irrigation system that allows for water to be distributed evenly throughout the entire plant pot. This type of system means that you no longer need to worry about over- or under-watering your plants because these self-watering planters will ensure that the perfect amount of water is delivered to the roots of your plants.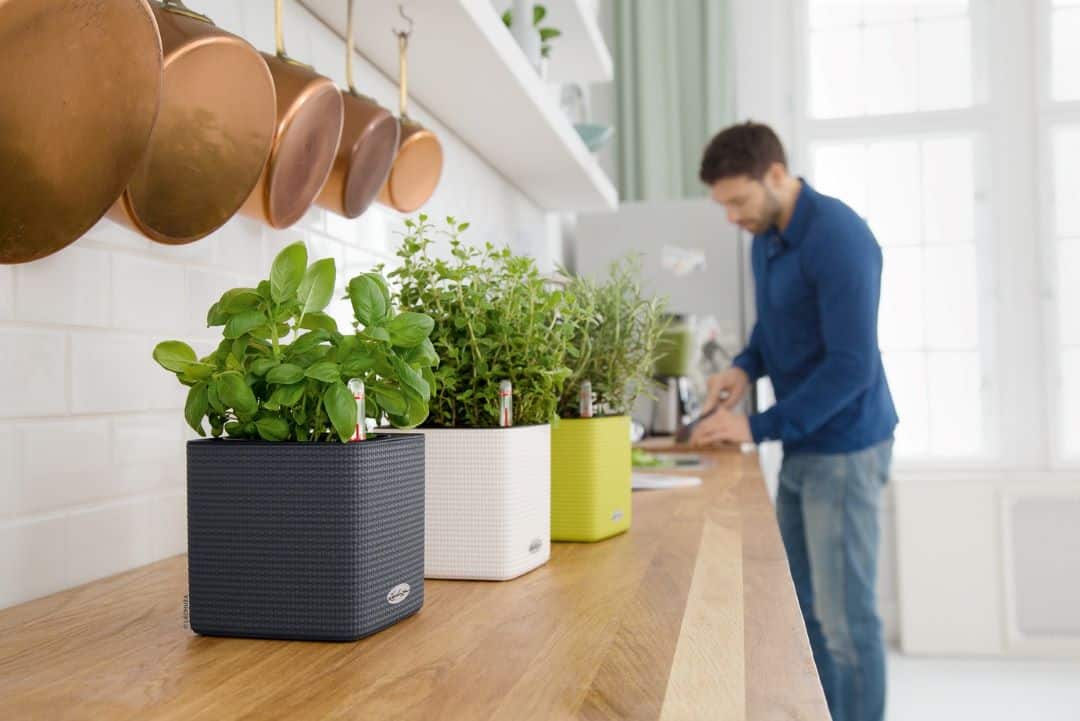 Automated Irrigation with Our indoor self-watering plant pots
Experience the convenience of self-watering indoor plant pots, combined with the state-of-the-art irrigation systems provided by our indoor self-watering plant pots. These intelligent systems utilize advanced sensors to meticulously monitor soil moisture levels, effortlessly adjusting the irrigation to ensure your beloved plants receive just the right amount of water.
Bid farewell to worries about overwatering! With our self-watering pots, simply remember to refill the reservoir and let the self-watering pot system take care of the rest. Its integrated reservoir delivers a consistent water supply to the soil, while the efficient drainage system directs excess water away from the roots and back into the reservoir, eliminating any risk of over or underwatering. This means that you can relax, knowing that your indoor plants will always be taken care of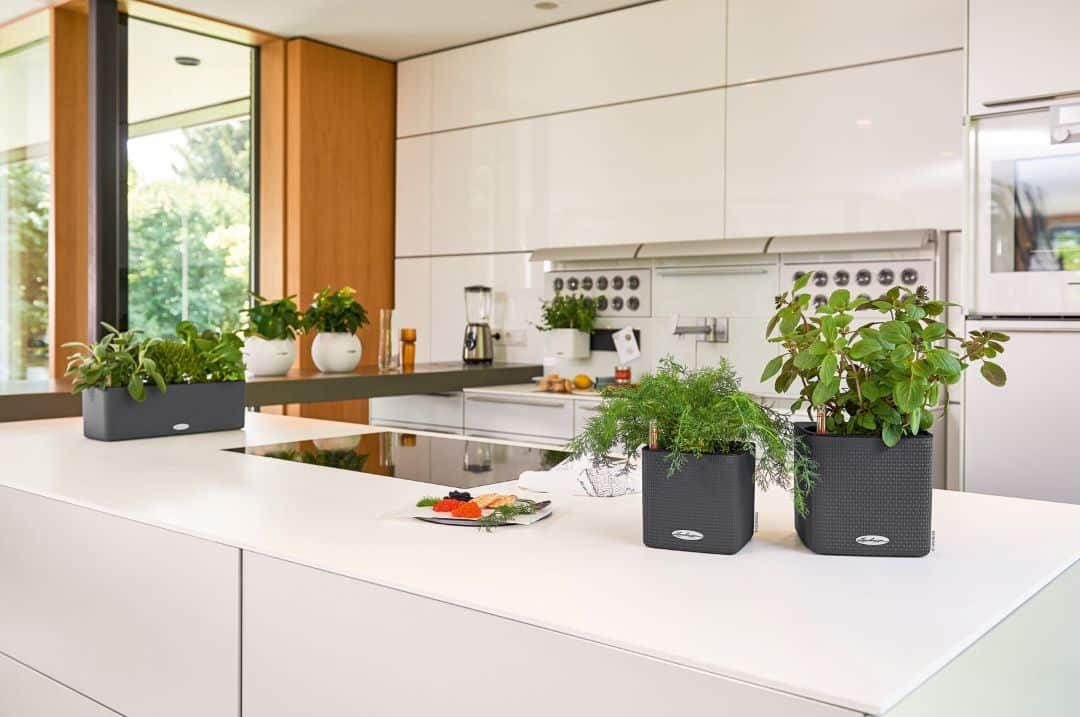 Choose From a Diverse Range of Self-watering Plant Pots that Complement Your Unique Style and Indoor Living Space.
We offer a wide range of pots in various sizes, shapes, and colours, ensuring you can find the perfect fit. Whether you prefer a contemporary grey ceramic pot or a sophisticated terracotta planter box, Skyline Grower has the ideal self-watering pot solution for your needs! Our innovative self-watering system allows you to enjoy lush greenery indoors without any concerns about overwatering your plants.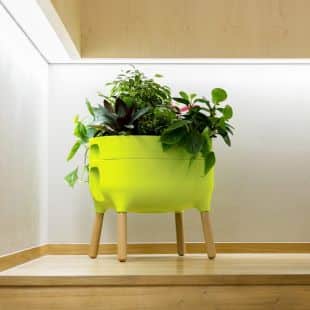 Urbalive Low Self Watering Planter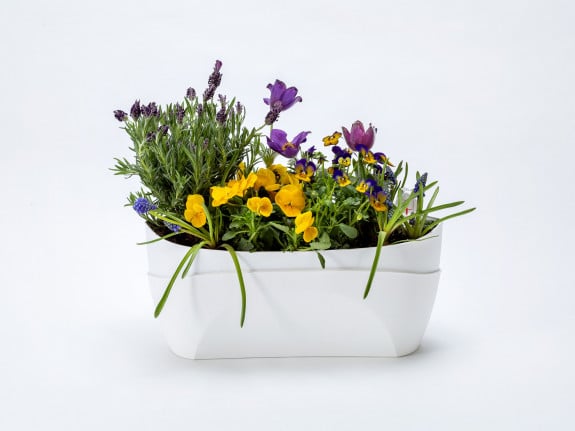 Bowtie Self Watering Planter By Plastia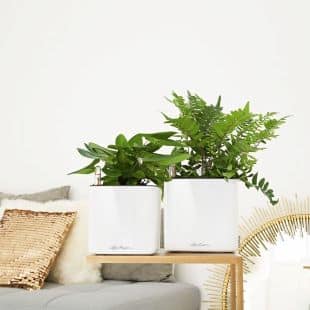 Self Watering Glosy Cube Planter By Lechuza
Keeps Plants Healthy
A consistent, steady supply of water keeps your plants healthy and vibrant
Stops Plants Drying Out
Self-watering pots provide a reliable source of water, so you don't have to worry about your plants going dry.
Prevent overwatering
The efficient drainage system directs excess water away from the plant's roots and back into the reservoir
Save Time
With self-watering systems, watering your plants becomes an almost effortless task.
Do Self- Watering Planters Really Work?
Absolutely! Self-watering planters are incredibly effective. They're specifically engineered to ensure your plants receive a steady and optimal water supply. The built-in reservoir collects and stores water, supplying it directly to the roots, and keeping them perfectly hydrated. So you can sit back, relax and trust that your indoor plants are well taken care of.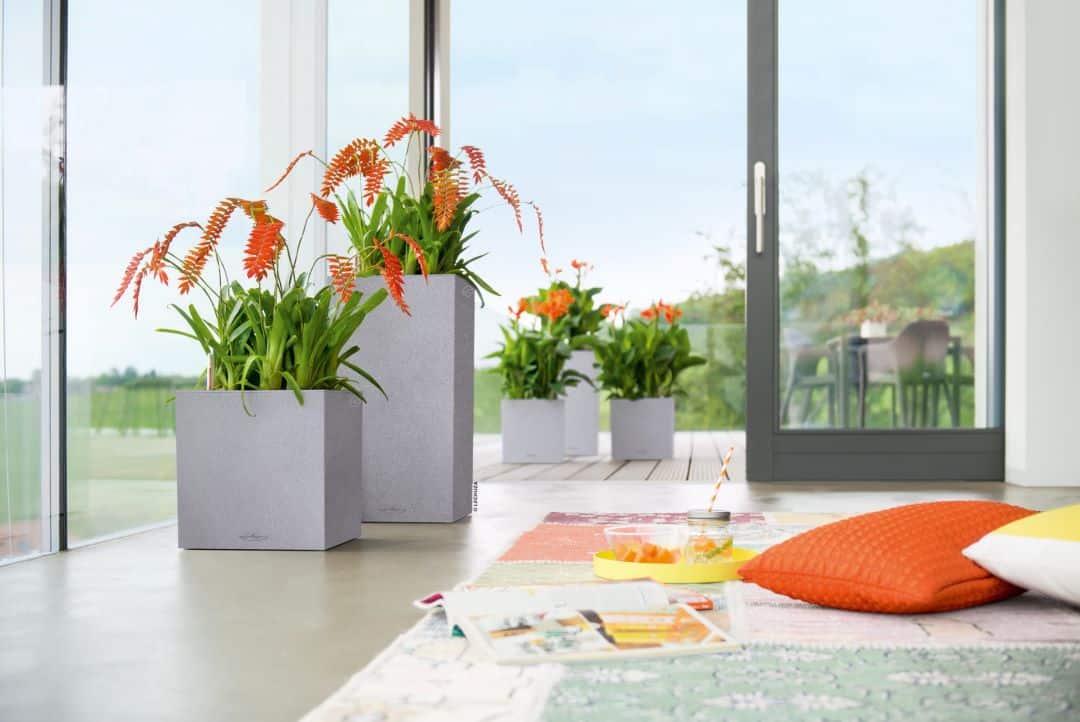 What is The Best Self-watering Planter?
Choosing just one can be a challenge when it comes to our best self-watering planters. Our collection of indoor plant pots with self-watering capabilities is meticulously crafted, offering exceptional quality across the board. However, if we had to highlight a standout option, allow us to introduce the magnificent white Lechuza Cube Cottage.
With its elegant curves and built-in leveling indicator, this self-watering planter is designed to make monitoring your water level effortless. Immerse yourself in the convenience and sophistication of the Lechuza Cube Cottage 50 self-aquifer garden planter—a true embodiment of indoor greenery.
Are Self-watering Pots Good for Indoor Plants?
Self-watering pots are a great solution for indoor plants as these pots provide your plants with exactly the right amount of water when they need it. Numerous plant species thrive when grown in pots and benefit from self-watering systems. However, it's important to note that certain self-watering pots may encounter issues with bottom-up irrigation in certain cases, depending on the specific needs of the plants.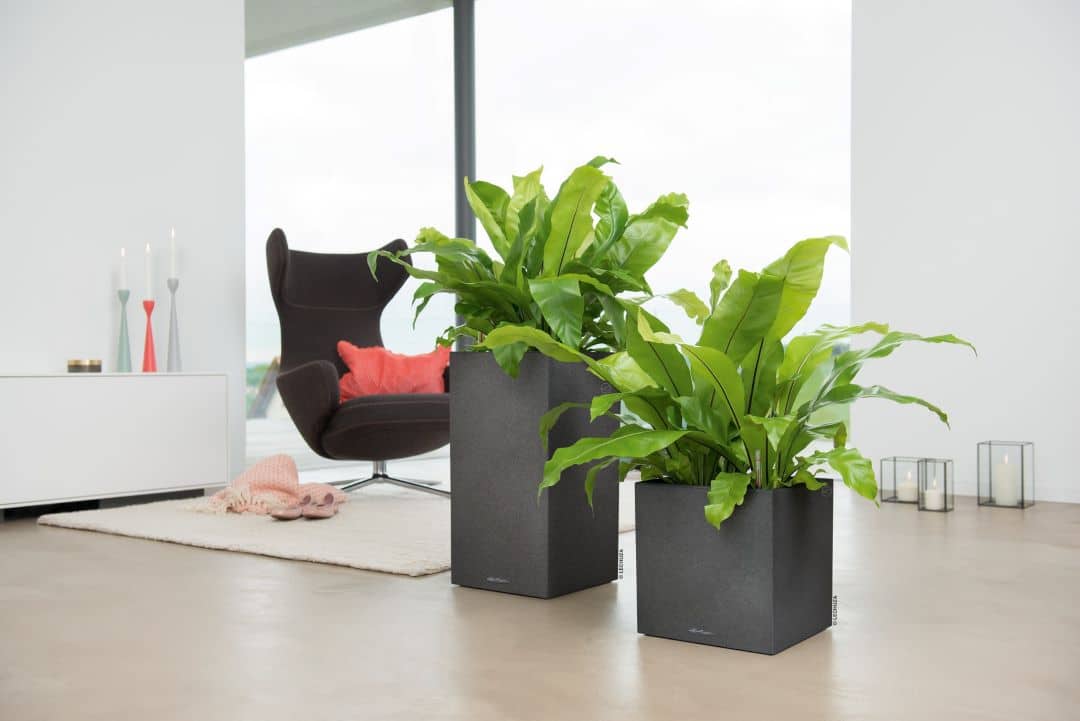 What Varieties of Plants That Thrive in Our Self-Watering Planters
Looking to add a touch of greenery to your living room, kitchen, or office? Look no further! Our self-watering planters are the perfect solution for a wide variety of plants. From charming succulents like aloe vera and jade plants to lush foliage like gardenias and tall ficus trees, our selection caters to all preferences. Each planter is thoughtfully crafted to maintain optimal moisture levels in the soil, ensuring ideal growth conditions for your plants. Discover some of our personal favorites and bring nature indoors!
Herbs
Like basil, mint, rosemary, and parsley thrive in self-watering planters, adding convenience to your cooking and a delightful fragrance to your indoor livingspace.
Low-Maintenance Plants
Succulents and cacti are perfect choices for self-watering planters due to their water-efficient nature.
Air Purifying Plants
The spider plant is an excellent and resilient choice, thriving in self-watering containers.
Peace Lily
If you desire an elegant touch, consider the peace lily with its beautiful white flowers. It's well-known for its ability to thrive in low-light conditions.
Leafy Greens
Including lettuce, kale, spinach, and Swiss chard, are among the easiest vegetables to grow indoors. They are well-suited for self-watering planters and can thrive in lower light conditions, making them ideal for limited spaces.
Compact varieties
Tiny Tim or Micro Tom thrive in self-watering planters, producing delightful dwarf tomatoes. You can also grow dwarf pepper plants such as Patio or Mini Bell varieties for small-sized peppers perfect for indoor spaces.
Top Tip For Your Indoor Plant Pots
Revitalize your indoor plants with our expertly crafted range of plant care products for indoor and outdoor use. Boost the growth of your plants with our exclusive PlantT!T feed, specially formulated for tomatoes and peppers. Enhance your space with the Urbalive worm farm, effortlessly recycling kitchen scraps and providing nutrient-rich worm tea to nourish all your cherished houseplants. At Skylinegrower, we are committed to helping your indoor plants thrive with utmost ease and abundance.
Can You Grow Vegetables or Herbs in Winter in Your Self-Watering Indoor Pots?
Certainly! Even during the winter, you can cultivate your own assortment of vegetables and herbs using self-watering indoor pots. With our range of user-friendly grow lights for plants , fertilizers, and  indoor composting solutions, indulging in homegrown produce during the colder months has never been easier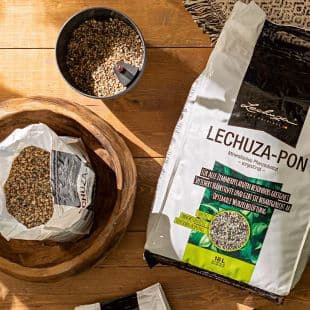 Self -Watering Indoor FAQ
How Often Should You Water Self-Watering Plants?
Remember, these self-watering plant pots are designed to automatically water your plants and feature indicators that alert you when the reservoir is empty or when your plants need more water.
Do Self-Watering Plant Pots Leak?
Are you wondering if self-watering planters are prone to leaking? Well, worry not! These ingenious planters actually function with a closed system, which not only keeps the nutrients within your plants intact but also prevents any leakage through drainage holes. So, you can enjoy hassle-free gardening and ensure your plants thrive effortlessly!
Experience the Joy of Harvesting Fresh Delights Right at Home!
If you have any questions or need any help setting up any of our self-watering indoor plant pots  send us a message and our friendly support staff would be glad to help.